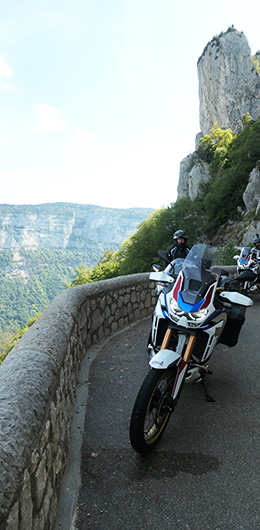 General
We make very special trips which are not practical for each biker - see driver experience. But our trips are the ultimate challenge for curve junkies.
Each day countless curves and passes give you steadily kicks. This will be a reason why you can feel giddy…
So you will have a lot of fun and will provide for pure adrenaline!
On the basis of so many passes and the length of the daily stages, there will be no special sightseeing! The beautiful landscapes and the countless corners are the highlights of the trip.
The trips are escorted by very experienced tour guides and our bike passion for more than 30 years is the guarantee that each participant will have much fun.
Also in 2019 we have some news:
AlpsGlow is turned upside down, this means the tour will be driven in the reverse direction.
For ElPirineo we made some optimizations and looked for a new hotel at second day.
And last but not least we start in spring-time the bike season with a tour in Corsica, a real biker paradise.
Ride with us and enjoy our detail knowledge of the regions.

Bikes

For our trips you can rent BMW bikes. Contact us.

Driver experience
Strong pass experience is basic requirement for this trips. The motorcycle must be controlled save on curvy roads especially in hairpins! The long daily stages require a good personal condition.
Specific feature:
For this trips a special kind of insurance policy - "Schutzbrief" – is necessary.